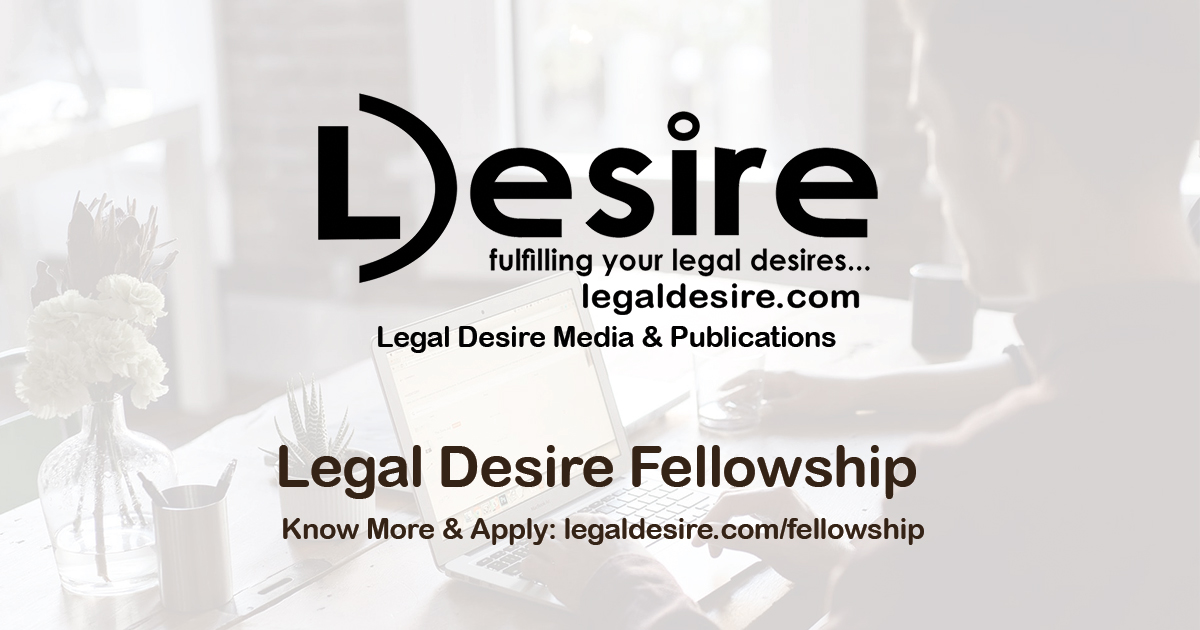 Apply for the Legal Research Fellow position at the Global emerging Legal Insights, Media & Publication House on Law & make a difference. Get your name associated with Legal Desire Media & Publications International Magazine, Journal and Books on Law. If you carry good legal writing and research skills then this position is for you.
About Legal Desire Media & Publications:
Legal
Desire
 (
www.legaldesire.com
) is ranked among world's leading 
legal
 insights & media house as per 
Feedspot
 Rankings
 with an outreach of Million+ Readers every month, 7 Lac+ Optin Email Subscribers etc. 
Legal
Desire
 is the one-stop destination for all 
legal
 curiosities including latest 
legal
 news, judgments, research papers, publications, career, interviews, ranking, and review etc. We are in the 5th year of our continuous publication and currently has a team of 150+ across the globe. Visit: 
www.legaldesire.com/about
 for detail info.
ELIGIBILITY CRITERIA:
Current Law Student/Graduate or Postgraduate of recognized Institution. We are looking for self-motivated and responsible individuals with excellent research, writing & communication skills.
WORK RESPONSIBILITIES:
The Selected Research Fellows will be assigned Daily Cases of a Court can be a Specific Courtroom of Supreme Court or a High Court of India. The Fellow will be provided access to the daily judgment of that court and He/She Needs to go through the important decisions made during the day and create news stories for the same along with a daily brief digest of the decisions that will be published on legaldesire.com and weekly print newsletter.
Writing Legal Articles
Preparing Presentations on Law
Providing us with relevant notifications and legal news to be updated on website
Drafting Proposals, Agreements and Brochures for Legal Desire
Any other work as assigned
Create content which gives website readers access to information in a simple, easy to understand language. The content writer should know the target audience and write content to engage and draw visitors.
Generate content, making smart use of keywords. The text should have relevant keywords and variations for better search engine ranking and indexing.
Creating stories from in-house reports/surveys monthly
Developing new ideas for web content
Work with team members to enhance content pieces
TENNURE: 3 Months with Pre Placement Offer subjected to work performance.
PERKS:
A fixed stipend of INR.20K for the fellowship tennure on successful completion.
Welcome Letter & Certificate of Appreciation
Letter of Recommendation & Fellowship Certificate
Registration fee for all the workshops/courses/events by Legal Desire will be fully subsidized for Legal Desire
Enhance your professional development, leadership, and communication skills
Paid tasks to earn during your tenure.
Rewards for Performance.
Free Trips to National Legal Events like Seminars, Conferences and Moots as a Part of Legal Desire Team to report the event with our Media Team.
Free Legal Desire Shopping Credits to shop online law books and other services.
Free Discount Vouchers for Online Certification Courses conducted by Legal Desire.
Legal Desire Goodies & Gift Hampers.
SELECTION PROCESS:
Applications are accepted on rolling basis. After review of applications by HR Department of Legal Desire, the selected applicants will receive interview call, confirmation email and contract of work.
HOW TO APPLY?
Submit your resume with contact details, photo & short bio to anuj@legaldesire.com with subject headline 'Application for the Legal Research Fellowship' by 30 January, 2018